Quality, precision,
performance and safety
by tradition
Since 1970 there has only been one name in the field of hydraulic, pneumatic and mechanical components and systems on which you can rely on without compromise. HKS is your specialist when it comes to unsurpassed quality, safety and performance.
We develop, design and produce to the highest level to meet your demands, without exception. Customers throughout the world depend on the extremely reliable products, and as a result we are the world's market leader in our field.
Our product range extends from rotary actuators, tiltrotators, rotary-lift combinations to linear cylinders. Their applications can be found in fields extending from industry to the mobile field.
Through an innovative product policy and continuous expansion of our radius of action the HKS Group has for years recorded sound, stable growth.
Video: HKS In The Year 2020 - Our Info Film
This info film gives a short overview of HKS Dreh-Antriebe GmbH and all investments of the last years.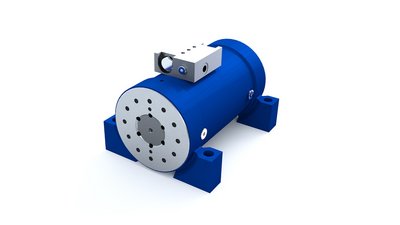 What are Rotary Actuators?
Hydraulic rotary actuators are compact units which generate very high torque in small spaces using hydraulic pressure. Since they can be controlled precisely and easily despite their high power, HKS rotary actuators have been a success in almost every area where limited rotary movements with high torque are required.
High manufacturing precision is required in order to achieve this functional efficiency and reliability. The actuator's interior is perfectly protected and completely immune to dust, dirt and moisture. This precision, along with the strong, well-sealed housing, allows the actuator to withstand operating pressures up to 350 bars. Rotary actuators can also be used under very harsh conditions, underground as well as 2300 meters below sea level. As an example, 224 actuators were used during the recovery of the Russian atomic submarine "Kursk" to ensure that it was held horizontally, thereby enabling the salvage efforts to be carried out safely. Actuators are even used in the pharmaceutical and food processing industries where a high degree of cleanliness and hygiene are required.
Based on the actuator's small physical presence, its strength and reliability may not be perceivable. The strongest HKS rotary actuator model can turn over twenty VW Golf automobiles from side to side.