Corporate Responsibility
SPONSORING AND SOCIAL COMMITMENT
Increasingly, companies of various industries use sponsorship as a communication tool. For HKS as a family-run company responsibility is a term that is carried far beyond the enterprise boundary. With our commitment to Health, Welfare and Sport, we also want to put social characters that correspond to the traditions and values ​​of our company. We are not just thinking of our employees, but we also think of our fellow men, so we regularly support social institutions.
Another aspect of our social commitment is the sports and physical activity. So we are sponsoring the local football club and also one or the other football tournament with partners and suppliers has been organized.

Social institutions or for example, the high school in the immediate location nearby our HKS premises are supported finanancially in order to avoid a potential shortage of sporting or teaching materials and thus also reinvest regionally.
For us as a family concern awareness of responsibilities is the term that is carried far beyond the company boundaries. With our commitment to health, social welfare and sports, we should also like to send out social signals that represent the tradition and ideals of our company. We not only endeavour do everything in our power for our employees but also to think of our fellow men. For instance, we regularly support social institutions.
Another aspect of our social commitment is the promotion of sports. We sponsor, for instance, the local soccer club and also occasionally soccer matches have already been organised with partners and suppliers. Furthermore, we encourage our employees to take part in the JP Morgan Corporate Challenge Company Run in Frankfurt, which is an annual event and the assets are invested in social engagement.
But it is not only sports that are supported, HKS makes a considerable contribution to education. We are promoting the "My Papa reads" project with the help of the Foundation. This is the idea behind giving all the professional fathers and mothers the opportunity to become more prominent as reading models for their children.
We also support specific projects and strive to make regular donations to the worldwide medical emergency of "Médecins Sans Frontières".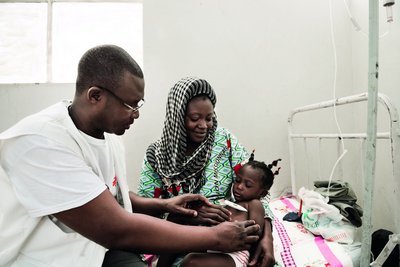 Médecins sans Frontières (MSF)
The German section of Médecins Sans Frontières / MSF was founded in 1993 as a non-profit organization. As part of the international network, the goal is to help people in need, regardless of their ethnic origin, religious or political conviction, to medically and at the same time publicly point out their situation.
The Médecins Sans Frontières network is made up of twenty-four member associations. Twenty-one of them are responsible for managing the network, which provides humanitarian aid in around sixty countries around the world.

This year again, HKS donates to Médecins sans Frontières, therefore no customer gifts will be distributed at Christmas.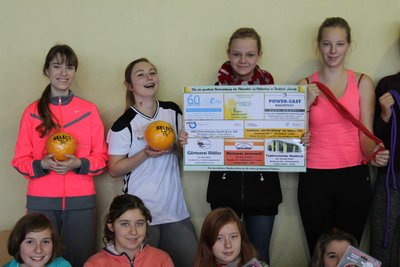 Oberschule Neukirch / Lausitz
The Oberschule "Am Valtenberg" is a direct neighbor to the HKS site in Neukirch / Lausitz. Sponsorship is used here to support equipment for sports lessons such as volley balls, table tennis balls, etc.
230 pupils from the fifth to the tenth grade can benefit from this. The pupils of class 9b of the Oberschule accepted the sponsoring packages for these school classes and posed for the photo.
All partners are listed on a sponsoring board in the sports hall of the school.
HKS is involved in the sponsorship and supports the potential newcomers on the spot.

SV Melitia 1921 Aufenau e.V.
The SV Melitia has a reliable partner at their side. HKS supported our association, among other things as a major sponsor in our club magazine "Kicker Melitia". In addition, employees of HKS are an important personal support of our association.
We currently provide three teams playing. The first team is in Kreisliga A, the second team plays in Kreisliga D. The special team "SoMa" is aimed at all those footballers who only want to play soccer on a friendliness basis without divisional operations. Here fun and fellowship stands in the focus, even before the sporting competition.
In the youth sector the Melitia is involved in Youth Funding Association (JFV) Kinzigtal. Together with the clubs SG Hesseldorf/Weilers/Neudorf, SV Brachttal, KG Wittgenborn and Germania Wächtersbach the youth work was merged to send each age group team into playing. In this way all Aufenauer have the opportunity to meet for regional tournaments with Melitia. The large number of teams and the own sports facilities involve considerable expenses. This can only be managed through membership fees. Much more the association has to rely on benevolent support of regionally based companies. HKS Dreh-Antriebe GmbH in this respect has always been an extremely responsible company.