Industry
WE TURN THE WORLD FOR YOU.
Maintenance-free HKS rotary actuators come for industrial applications and in the mechanical engineering industry used worldwide because they meet stringent criteria and quality standards and this for various applications. Their rapid indexing times and flexibility in modifications possible, they are perfectly integrated into highly complex production processes. Thus the rotary drives offer environmental and economic efficiency, precision and reliability. With our HKS rotary actuators - such as the I-DA-H - we have for our customers the right solution to ever growing market challenges and provide continuity in quality and precision.

Check with our technical sales of our standard solutions or specially designed for your need system solutions!
SACTUATION PRICIPLE MULTIPLE HELICAL GEAR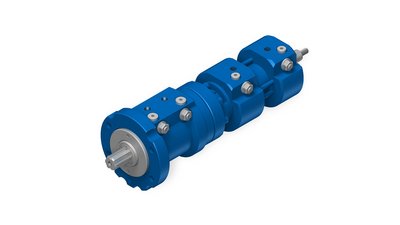 The actuation principle is based on multiple helical gears, which are steeply threaded gears that are used to convert a small radial movement into a relatively large axial movement by means of rotation. Multiple helical gear actuators make it possible to produce and hold any intermediate angle of rotation.
The outer dimensions can be flexibly designed to take limited construction space requirements into account. Numerous options, such as angular adjustment, cushioning and the use of sensor technology, make it possible to meet a broad range of requirements in terms of rotational movements with high torque.
The basis for this design is a system of multiple helical gears. The helical gears enable the linear movement of the piston to be converted into a totalised rotational movement. The longer the linear path of the piston, the greater the rotational movement. Although this principle is simple, in order to give the rotary actuator its functional efficiency and reliability, a level of manufacturing precision is required that sometimes borders on the impossible. The mechanical tolerance in the angle of rotation can be reduced to below ten angular minutes. These rotary actuators are used, for example, in machine tools, elevated working platforms, automotive engineering, refuse collection vehicles, side and rear loaders, tunnelling machinery and construction machinery.