Hydraulic solutions for complex and individual challenges big, bigger - HKS
For 50 years, HKS Dreh-Antriebe GmbH from Wächtersbach-Aufenau has been developing, designing, producing and selling hydraulic rotary actuators, actuators, tilt rotators, rotary-stroke combinations, rack-and-pinion drives and linear cylinders. HKS was a pioneer in this industry, always driven by the right intuition. As a result, HKS Dreh-Antriebe GmbH has become one of the world's market leaders.
All products are manufactured on the large-scale production facilities of HKS Dreh-Antriebe GmbH and are completely "Made in Germany" from the idea, the design to the production and assembly. Depending on the customer's requirements, the HKS specialists can develop prototypes, manufacture customer-specific individual items as well as produce entire series. Of course, this also includes a clear service concept. HKS not only supplies rotary actuators, but also competent advice and solutions tailored to the specific working area as a system provider.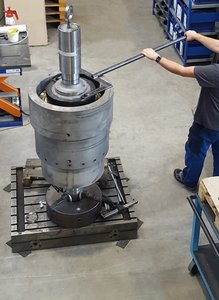 Hydraulic rotary drives for test benches and test stands
HKS hydraulic rotary actuators can be found in many applications worldwide. Among other things, the rotary drives are also used in various types of test stands. The special feature is that these drives rotate at high speeds (up to 2,500 rpm), applying a torque to a gear wheel, for example. Among other things, this is how the wear on these gears is measured in long-term tests. Large automobile manufacturers also use HKS rotary actuators in their test centers for endurance tests on their gearboxes. These special actuators have been continuously developed and kept up to date with the latest technology.
In 2020, HKS was faced with a special challenge that set new technical and manufacturing limits. Back in 2016, the largest hydraulic rotary actuator of this type to date was delivered by HKS for a test plant. With an outer diameter of 350mm and a weight of over 1,100 kg and a torque of 70,000 Nm, this drive already set enormous standards. The rotary actuator met the specified requirements 100 percent. Based on this positive experience, the manufacturer of test equipment has again turned to the specialist staff of HKS with a new challenge. In a new so-called four-quadrant test rig for high-performance gearboxes, the HKS multi-turn actuator is to be installed between an electric motor and generator in order to compensate for friction forces. In the future, gearboxes or turbines can be tested in the megawatt power range instead of the kilowatt range.
Largest hydraulic rotary actuator based on the steep thread principle
This rotary actuator is to rotate around its own axis at 3,500 rpm and generate 80,000 Nm of torque, as well as having a rotation angle of 270° and being no longer than 1800mm. In addition, a torque measuring device is to be integrated. Due to the short length available at 80,000 Nm, this actuator should only have an outer diameter of 680 mm and a weight of about 2,800 kg. This makes it the largest and heaviest industrial actuator based on the steep thread principle ever developed and built. A special challenge also for the HKS production at the location in Neukirch/Lausitz.